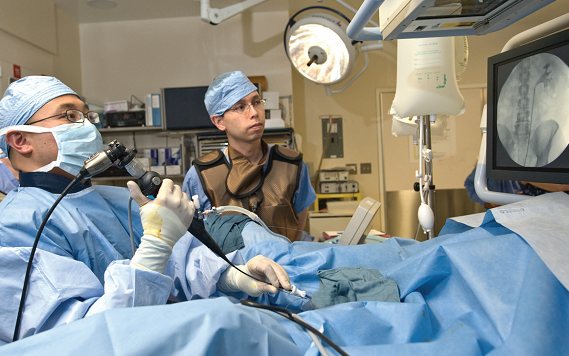 How many of the 16 reprocessed ureteroscopes that researchers tested had dangerously high levels of organic material and bioburden remaining on them? All of them — despite undergoing manual cleaning and sterilization.
That's right, all 16 flexible ureteroscopes used for kidney stone removal and other procedures at 2 facilities had visible irregularities and residual contamination exceeding benchmarks for clean endoscopes, according to alarming study results published in the American Journal of Infection Control and presented at this week's meeting of the Association for Professionals in Infection Control and Epidemiology.
Two-thirds of the scopes contained hemoglobin and nearly half had high levels of adenosine triphosphate (ATP). Visual inspection of the scopes turned up debris in channels, oily deposits and a mystery white, foamy residue the researchers had never before seen.
This study underscores the importance of actively monitoring reprocessing outcomes to ensure reprocessed flexible ureteroscopes are sterile and safe for patient use, says lead study author Cori Ofstead, MSPH, of Ofstead & Associates, a healthcare consulting firm in Saint Paul, Minn.
"If [the reprocessing staffs] had been conducting cleaning verification tests or visual inspections, every one of these scopes would have been removed from service," says Ms. Ofstead. "Every scope should be inspected, every time — and there must be accountability measures set in place."
There should have been no trace of visual bacteria and microbial cultures should have been negative after the scopes were sterilized, note the researchers. They say the scopes involved in the study did not undergo bedside cleaning in the OR and sat in the reprocessing area for long periods before they were cleaned and sterilized with hydrogen peroxide gas, factors that could have contributed to the worrisome findings.
"Sterilization doesn't work if scopes aren't clean," says Ms. Ofstead.