Most dental hygienists find that the person in the operatory with them is the most satisfying aspect of their careers, but there's a mixed reaction to what's the least satisfying factor in a dental hygiene career, according to a survey conducted by RDH eVillage.
Their relationships with patients was deemed the "most satisfying" part of their career by 59% of the 2,117 dental hygienists who participated in the February 2017 survey.



"I like my time with patients and I like dentistry in general," said a Pennsylvania dental hygienist. "I give 100% and would like to be appreciated financially in some way. It would make coming to work much more fun."
As implied, this particular hygienist cited the lack of financial rewards as being the least satisfying part of a dental hygiene career. The list of "least" satisfying aspects was not dominated by any one answer, but the lack of employee benefits led the pack with 30%.
Least Satisfying Part Of A Dental Hygiene career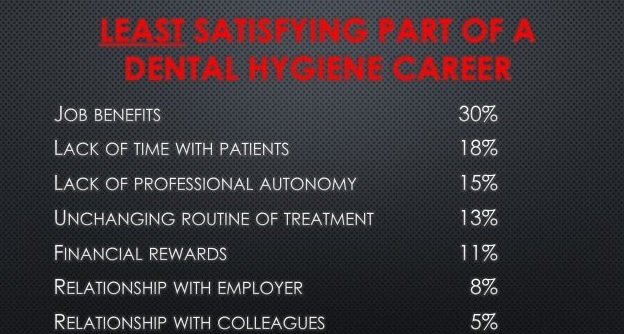 A little over 20% of the hygienists reported that the flexible work schedules common to the profession and the impact of care on the local community were the most satisfying aspects of their careers.
Most Satisfying Part Of A Dental Hygiene career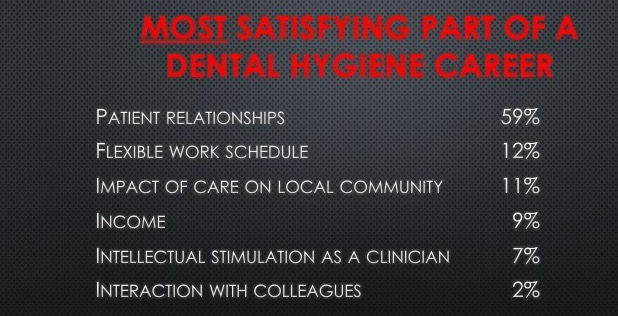 Interestingly, the strong value placed on relationships with patients increases as dental hygienists get older.
"The difficulty I see in today's climate is the fact that we have so many corporate-style dental clinics moving into the area, which doesn't sit well with me," said a Florida dental hygienist in the 46- to 55-year-old age bracket. "They may pay well, but the moral and ethical compass is missing. Patients are just a number and very often, unwarranted procedures are completed. Everyday, I love going to work! There is no such thing as a dreaded Monday in my book."
Professional Relationship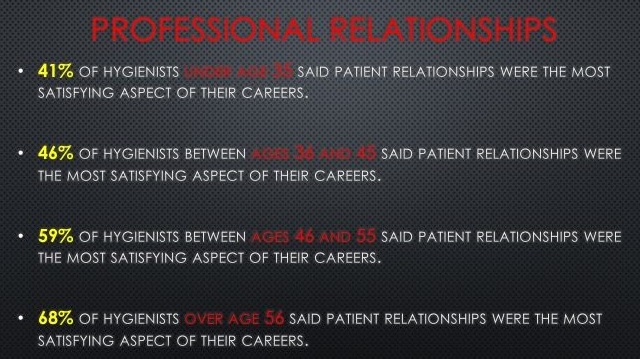 Older hygienists, though, are more likely to be bothered by the lack of autonomy for the profession—at least to the point where it is the least satisfying part of a dental hygiene career. A veteran Michigan hygienist said, "I feel our profession is held back by the doctors, and we are not respected as the professionals we are."
Lack Of Autonomy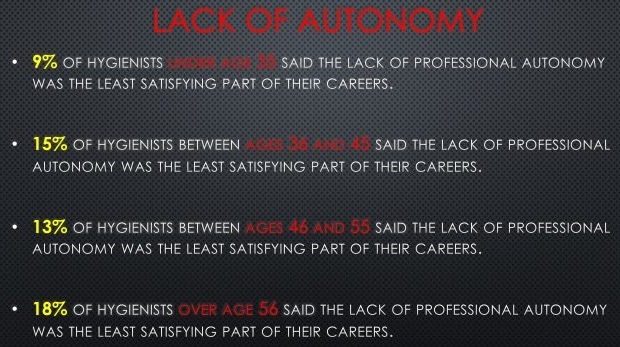 On the other hand, hygienists with perhaps a greater degree of child-rearing responsibilities placed the greatest value on the flexible work schedules offered to dental hygienists. But not necessarily. A New Jersey dental hygienist under age 35 said, "I love hygiene but if I had the chance to change fields I might just do it in order to have new experiences in life, not because of dissatisfaction."
Flexible Schedule