by Heather Long @byHeatherLong
Maria Khan is a 23-year-old who earns $45 an hour.
Most days Khan feels like she won the lottery. She loves her job, and it doesn't require her to work weekends — or even much beyond the standard 9 to 5 hours.Khan is a dental hygienist, one of the highest paid jobs in America that doesn't require a bachelor's degree.
"I love helping people and seeing the smile on their face when they tell me I gave the best cleaning," says Khan, who lives in Westchester, New York.

The median salary for a dental hygienist is $73,000 a year, according to the U.S. Labor Department. That's higher than the median salary of $69,000 for a registered nurse. In big cities, dental hygienists can earn six figures.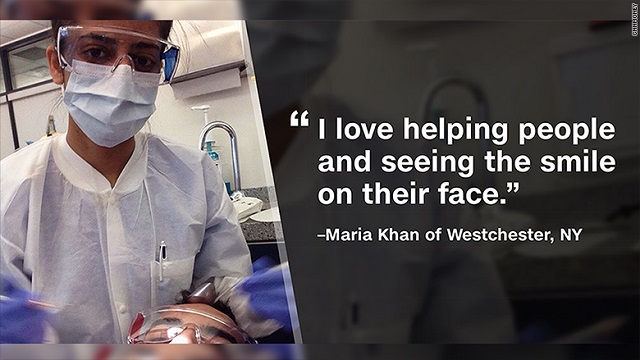 "When these students graduate, they can almost guarantee themselves a job," says Salim Rayman, the head of the dental hygiene program at Hostos Community College in the Bronx neighborhood of New York City. Khan is a recent Hostos graduate.
Word is getting out that dental hygienists make as much money as nurses with a lot less stress. Becoming a dental hygiene requires a two-year associates degree (often with a third year to fulfill additional requirements). It's one of the most popular degrees at Hostos. Over 100 students applied last year for 46 spots.It's a fast-track path to the middle class for many low-income and immigrant students. And it's a job that's unlikely to be replaced by robots anytime soon.
"It's a booming field for the next 20 years," says Kevin Artis, class president of the dental hygiene program at Hostos.
Overall, there are about 200,000 dental hygienists in the country, and its a fast growing profession. The U.S. is going to need nearly 20% more dental hygienists in the next decade, according to Labor Department forecasts. The field has traditionally been dominated by women, but more and more men like Artis are moving into it as the U.S. economy shifts from manufacturing to "service" jobs.
"The hardest part is gathering all the patients you need to complete the training certification," says Artis, who is 21.
Students are required to work on at least 16 patients with different kinds of dental issues. They start their training on mannequins. Next they test their skills on their classmates. Then they work on real patients. Hostos offers a free dental clinic Monday through Friday in one of the poorest areas of New York City.
The perfect smile = more money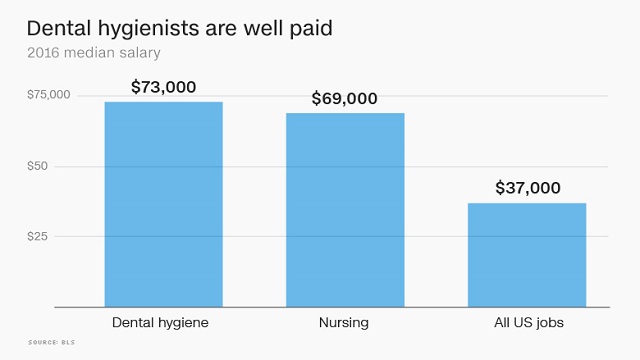 Dental hygiene is becoming even more lucrative thanks to the selfie culture on Facebook, Instagram and Snapchat. Everyone wants a "perfect smile." Dental hygienist often earn extra money if a patient orders teeth whitening or teeth straightening treatment like Invisalign.
"The trend now is commission based salaries. You get a flat rate for your work, but you earn more on top of that if you sell certain things in the office," Rayman says.

The big downside is that dental hygiene has also become a "gig economy" job. While it's easy to get work, it's hard to get a full-time job at one dentist's office. Young graduates typically begin by working at two or three different practices. The hourly pay is high, but it typically doesn't come with benefits.
"It would be ideal to be in one office," says Francilot, but she is prepared to work at two after she graduates. Many Hostos graduates find that after a few years, a practice will hire them full-time with benefits.
Students in the dental hygiene program at Hostos say money is important, but they chose this career path primarily because it's a job where you can make a tremendous difference and still have good work-life balance.
"It's a job that makes you feel good," says Francilot.