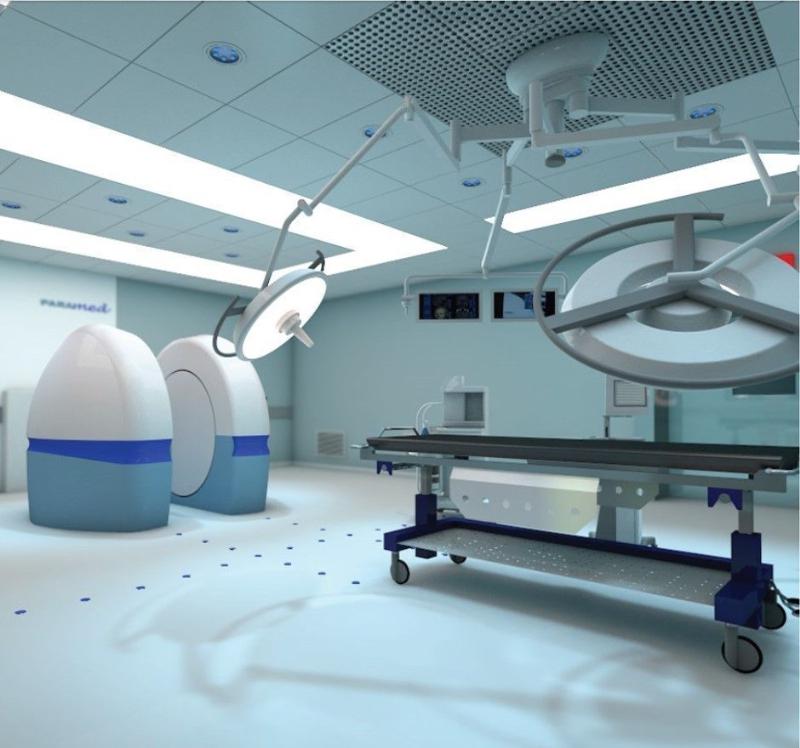 At RSNA 2014, Paramed Medical Systems presented the innovative new applications of MROpen, the only MRI system with "cryogen-free" superconductive technology and "open sky" design. MROpen's unique technology developed by Paramed opens up new horizons, outside and beyond Diagnostic Imaging.
The new clinical applications, available in 2015, will utilize MROpen in Interventional MRI procedure as well as in "hybrid integrated operating rooms" (ORs equipped with advanced imaging devices), to assess the outcome of neurosurgery and spine surgery in real time.
Interventional applications will include specific MR-guided procedures such as thermoablation, vertebroplasty, cervical & lumbar nucleolysism, pulsed radiofrequency treatment, needle-biopsy of the musculoskeletal system, and ozone therapy. It is a great opportunity to improve the precision and clinical efficacy of key treatments and therapies.
The MROpen will have an even stronger impact on surgeries when integrated in hybrid ORs. By scanning patients in the exact position they have been operated on, it will be possible to assess the outcome of a surgical procedure with greater details and strong advantages.
Functional advantage: a tumor's real position and shape will be identified and confirmed through precise images, instead of just relying on the surgeon's skill and experience.
Operational advantage: increased success rate of "first attempt" surgeries will reduce the necessity of repeating the procedure, eliminating additional time and costs related to that, as well as avoiding negative psychological impact on patients.
The MROpen's innovative design and technology have the potential of solving major problems that have so far limited the clinical efficacy and feasibility of interventional MRI and integrated hybrid ORs. The innovative system design and magnetic field containment allow the surgeon to operate at a very short distance from the magnet, without any interference of the MRI with the surrounding surgery tools and equipment (a-magnetic, expensive MR-compatible tools are no longer necessary!), and avoiding (or strongly reducing) the need to move the patient in and out of the scanner.
The MROpen's technology, the superconductive wire in Magnesium Diboride MgB2, allows "high-temperature" and "cryogen-free" superconductivity, which simplifies the OR's infrastructure while improving safety for both patients and operators, avoiding the risk of explosion due to interaction of helium with medical gases.
The possibility to switch the main magnetic field on and off within minutes at any time greatly simplifies technical maintenance on all other surgical tools in the operating room.