1. Be An Excellent Manager of Your Own Time
Medical school will overwhelm you. In the four years it will take you to get your MD, you will be presented with more information that you must master than you might have thought possible, even if you did attend a rigorous pre-med program. Accordingly, the first tip to being a good medical student is to develop time-management skills.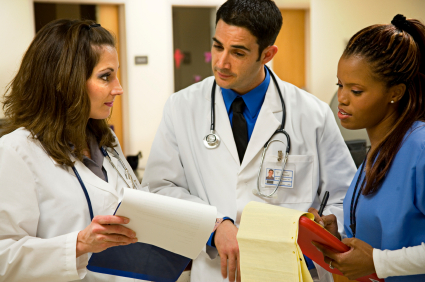 2. Be Friends With More Experienced Medical Students
Making connections early in your med school career with students who have been around longer than you can be invaluable. You can learn from their mistakes instead of making them on your own.
3. Be Respectful of Your Own Health
During this overwhelming time, you will be taxing your physical and mental resources to stay on top of your studies. While it's important that you do well, of course, you must balance your quest for excellence with a commitment to maintaining your health.
4. Be Respectful of The Undertaking
Becoming a doctor is one of the most important things a person can do. Respect this undertaking, and understand that the other aspects of your life (anything non-med-school related) are going to have to take a back seat for a while. A long while.
5. Hit The Books Hard and Often
Get to love studying if you don't already. There's only one way to master the amount of information you need to when people's lives are in your hands, and that's to immerse yourself in it.
6.Play To Your Strengths, But Don't Be Limited To Them
Medical school is like any other kind of school in some ways — it's a learning experience. Do engage in learning opportunities that will showcase your strengths, but also look for ways to grow, to build on areas where you might not be as strong.
7. Choose Your Specialization ASAP
The earlier you can decide about which area of medicine you'd like to practice, the earlier you can become an expert in this area.
8. Find Mentors In Your Field Of Choice
Before you decide on a specialization, talk to the experienced students you know about what they think. Talk to doctors currently practicing in the field that appeals to you. Talk to your instructors. Make professional connections with people who are already doing the kinds of things you want to be doing after you're out of school.
9. Write As Much As You Can
Med school may be too early to think about publishing your work, but if you are looking for prestige in your field, plan on publishing in the future. The best way to get publication worthy is to write what you can, perhaps by helping already publishing doctors prepare articles.
10. Take The Occasional Break
Good luck with this one!
Source