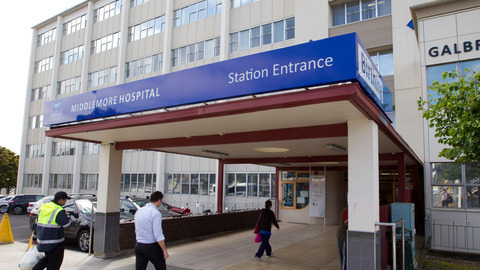 A knife flew out of a man's pocket and became stuck in his eye when he was having a brain scan.
Middlemore Hospital has apologised to the man and reviewed its procedures after the horrifying accident, which happened when he took a belt, keys and a knife in a magnetic resonance imaging (MRI) scan.
Loose metallic items are prohibited in the MRI unit as they are attracted by the magnet, which is so strong patients with pacemakers, stents, shunts, surgical screws or plates cannot be scanned.
The man, in his 70s, had the closed knife in his pocket but it flew out at high speed and hit him in the face causing serious eye trauma and an orbital fracture.
Hospital spokeswoman Lauren Young said it had reviewed how the knife was missed during routine checks.
When the scan started, the technician noticed the man was moving. He removed keys from his pocket then he removed the pocketknife.
"The pocketknife was attracted with force into the MRI scanner and hit him in the face, where it stayed due to the force of the magnetic field," Young said.
"The man was brought out of the scanner, received treatment and a CT scan of his face determined an orbital fracture and trauma to the eye."
Young said the brain scan was completed a few days later and "staff apologised to him".