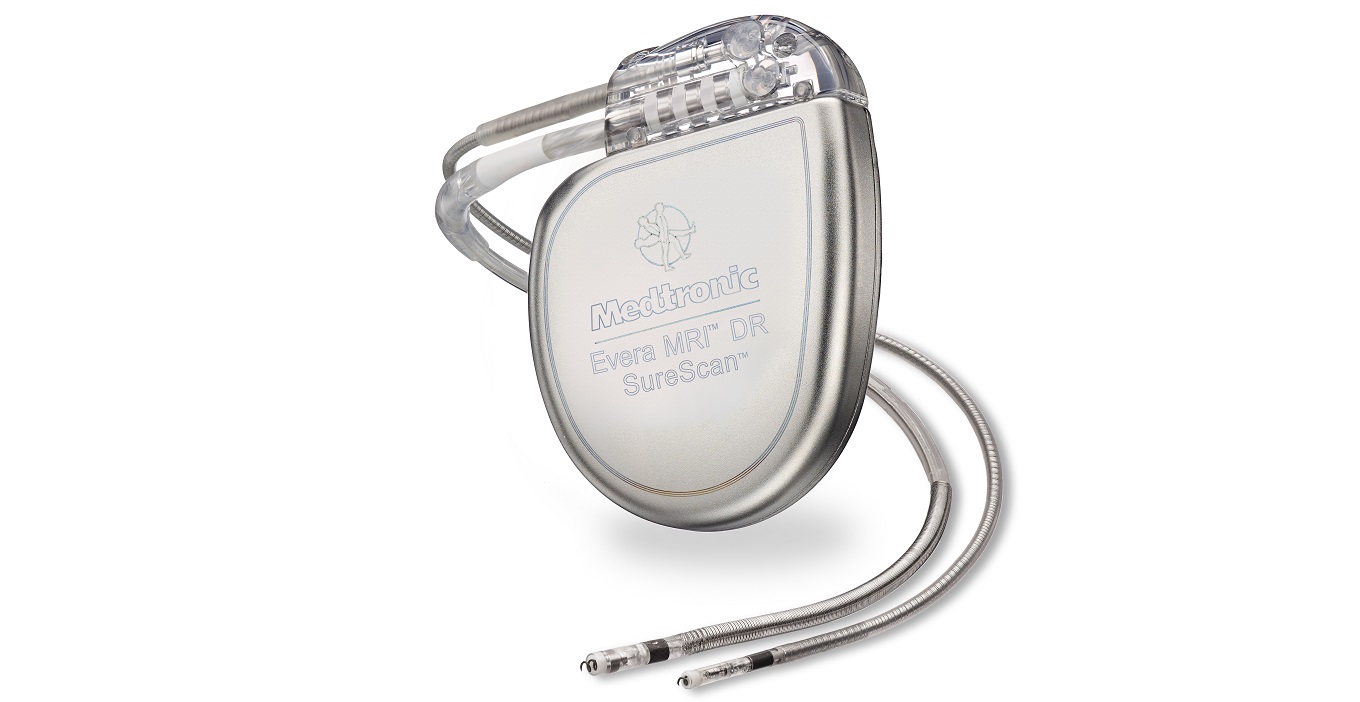 A new implantable cardioverter defibrillator (ICD) system can be used during full body magnetic resonance imaging (MRI) scans in patients at risk of sudden cardiac arrest (SCA).
The Medtronic Evera MRI SureScan ICD system includes both hardware and software enhancements from previous ICD devices that allow it to safely undergo full-body MRIs, while still maintaining the same longevity, shock reduction capabilities, and physiological size and shape of the original Evera ICD. Feature include a contoured shape with thin, smooth edges that better fits inside the body, increasing patient comfort by reducing skin pressure by 30%; and SmartShock 2.0, an exclusive shock reduction algorithm that enables the device to better differentiate between dangerous and harmless heart rhythms.
Other features include fluid status monitoring and complete diagnostics, designed to identify patients at risk of worsening heart failure and atrial fibrillation (AF), as well as a projected battery longevity of up to 11 years. To be considered MR-conditional, the Evera MRI ICD must be paired with the active monitoring Sprint Quattro Secure MRI SureScan DF4 leads. The Medtronic Evera MRI SureScan ICD system is a product of Medtronic (Dublin, Ireland), and has been approved by the US Food and Drug Administration (FDA) for MRI scans on any part of the body, without positioning restrictions.
"The Evera MRI ICD system underwent comprehensive computer modeling of more than 2.3 million clinical scenarios and this information, combined with the safety data from the clinical trial, has resulted in this critical regulatory approval," said Marshall Stanton, MD, vice president and general manager of the Tachycardia business at Medtronic. "As pioneers in the development of implantable cardiac devices that can be used in an MRI environment, Medtronic is committed to ongoing innovation to address the clinical needs of physicians and patients."
"Patients at risk for sudden cardiac arrest have long relied on ICDs to monitor their hearts, detect dangerous arrhythmias, and deliver the life-saving therapy needed to survive," said Prof. Michael Gold, MD, PhD, chief of cardiology at the Medical University of South Carolina (MUSC; Charleston, USA), and principal investigator in the Evera MRI clinical trial. "Many of these patients also need access to MRIs, so the approval of an ICD that can be used in an MRI environment is crucial, and can help provide patients with the peace of mind that they are receiving the best care available."
Until now, patients with ICD systems were contraindicated from receiving MRI scans, due to potential interactions between the MRI device and ICD function, which might result in risk to patients. The restriction has resulted in a critical unmet need, since data have shown that within four years, 36% percent patients with ICDs in the US are likely to need an MRI.