LEVITTOWN, Long Island (WABC) — Police on Long Island are investigating a horrific case of animal cruelty after they say a dog owner is accused of putting his pet in a bag and hitting it with a shovel.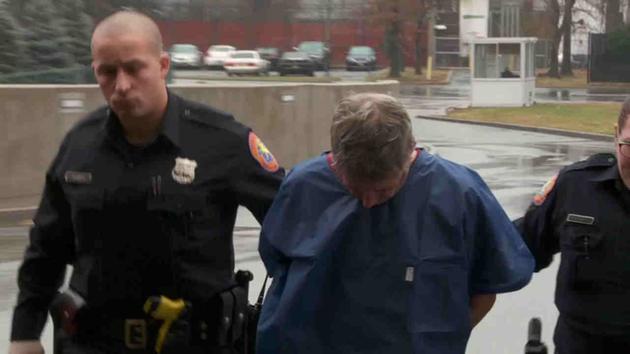 That dog was later euthanized, and now, the Levittown man is under arrest and facing charges.
Nassau County police say neighbors saw 56-year-old Michael Gallagher trying to strangle his Shepherd mix dog with plastic zip ties around its neck on Friday.
"It was disgusting," said one neighbor, who did not want to be identified. "My neighbor across the street called me, screaming that she heard the dog being killed."
The disturbing images still haunt the woman.
"All of sudden, he comes out with this long zip tie," she said. "And he's putting it around the dog's neck. The dog is in the bag."
She said it was just before 3 p.m. along Silversmith Lane when she noticed Gallagher put the zip tie around 11-year-old Bella's neck before putting her into the garbage bag, which he beat with the shovel as neighbors desperately called 911.
"I screamed at him to stop and said, 'What are you doing? What are you doing?'" she said. "And he said the dog was sick, and he wanted to put it out of its misery. And I called him a couple of things."
The neighbor opened the bag, cut the zip ties and saw a bad cut on the dog's head.
"We just can't figure out why somebody would do that," said Gary Rogers, of the Nassau County SPCA. "Violent animal cruelty like that is a precursor to other violent crime."
Bella was taken to a nearby animal hospital for treatment, but her injuries were too extensive. Members of the Cornell University Veterinary School will now perform a forensic evaluation.
"It had to be euthanized from the horrible wounds that it received," Rogers said. "The vet determined that the wounds were going to be fatal, and to put the animal out of its suffering."
Gallagher was arrested at a nearby 7-Eleven.
"This is a family member that you've been living with for 11.5 years in your house, and then you decide to put a wire tie around its neck, a zip tie, a bag over its head and hit it with a shove?" Rogers said. "We can't figure out what's going on there."
Gallagher is charged with aggravated cruelty to animals and torturing or injuring animals.