A minor is a mandatory for some majors, while others are quite flexible. I personally think that minors are very important and they can add an edge to our degree. To understand the university jargon of major, minor, certificates, and how to add them to your degree check out Megan's blog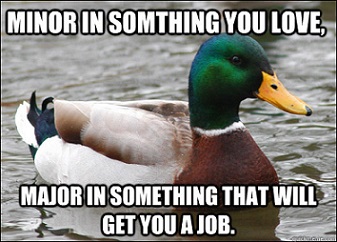 Make it worth the while – You are already at University, and you are working hard. So, why not expand your knowledge? This will not only enlighten you with new information, but may help you discover new interests and broaden your horizon while discovering new careers.
Not to mention university is expensive, and applying for scholarships is a long thorough procedure. So, looking from a monetary factor and since we are working hard to earn it through employment and awards, why not just give ourselves the extra push to attain an extra discipline of studies too.
Enhance your marketability and career chances – If you have expertise in more than one discipline then undoubtedly your resume will look more appealing. General education courses are a great way to get that well rounded knowledge, but it is minors that really make that area of concentration stronger.
Make your own unique combination. At YorkU you can pretty much combine any two disciplines. Add a psychology element to a business degree, a second language, or increase your knowledge in the field of communications. Many employers, for example, in the business sector value employees with a psychology background for a fresh new perspective.
Follow your Passion – Some students are lucky who actually get to pursue their passion, but not everyone is that fortunate—hey not everyone is great at mathematics or science, and trust me I feel your pain! Pursuing a degree entails many considerations, and often students make decision in disciplines that they feel will guarantee them economic security (of course, rightfully so!).
But an element of passion has to reflect in our degree or otherwise the process might become too dreadful. Minors are a perfect solution to explore the field you are passionate about. It equips you with the knowledge needed to succeed in that career, while enhancing your chances of landing employment in your desired field of work too.
Compliment your degree with a double major – If you really fall in love with your new discovered minor, or realize you want to pursue the field you're passionate about then you can always declare a double major.
While a double major can take a little longer in some cases, but it is entirely worth the time once it is accomplished offering you options in multiple careers.
Increase options for graduate school – Last but not least, for those preparing to continue their journey to graduate school. It is all the more helpful to have explored a minor to really understand and grasp the theories of a discipline you possibly want to pursue in your higher studies. While, not all the graduate programs at YorkU require a minor or major in your particular discipline of study. Having pursued a minor you will be equipped with some knowledge of the field already.
With a minor, you can also apply to several graduate programs rather than narrowing your choices to just one field. If you career is reflective of your minor, then at this point the time and effort you have put in will pay off allowing you to pursue graduate studies with a much more well-versed background to advance your career!
Have you decided if you are adding a minor or major? If so, which two disciplines are you combining?.
[ads1]